Thessaloniki, or Salonika as the locals call it, is the second biggest city in Greece after the capital Athens. Due to its dynamic history, it brings together a very interesting mix of culture, cuisine, architecture, and art. Not being a famous tourist island makes it a perfect place for exploring the authentic and unspoiled greek elements. Being both a historical marvel and a modern cosmopolitan city, Thessaloniki was the best city to start our introduction to Greece.
Thessaloniki was founded as the capital of Macedonia, originally in 315 BC by King Kassandios, a few years after Alexander was dead. He named it after his wife (I know, old-school romance). Sounds like a much more normal husband-wife relationship. I am looking at you, Henry VIII. Ah, nothing beats the English Royalty scandals. Read more about them in my 4- days London itinerary.
Fun fact: Do you know who is from Macedonia? Alexander the Great! Yes, THE Alexander the Great, the one we know as Sikander in India. The one who had one of the largest empires from Greece, all the way to India, all before he was 30. I mean there are still disputes about if he is from Greece or North Macedonia since when he was the ruler, there was no Greece, just Macedonia. Well, he was born in Pella, which is in present Greece. Does that make him Greek?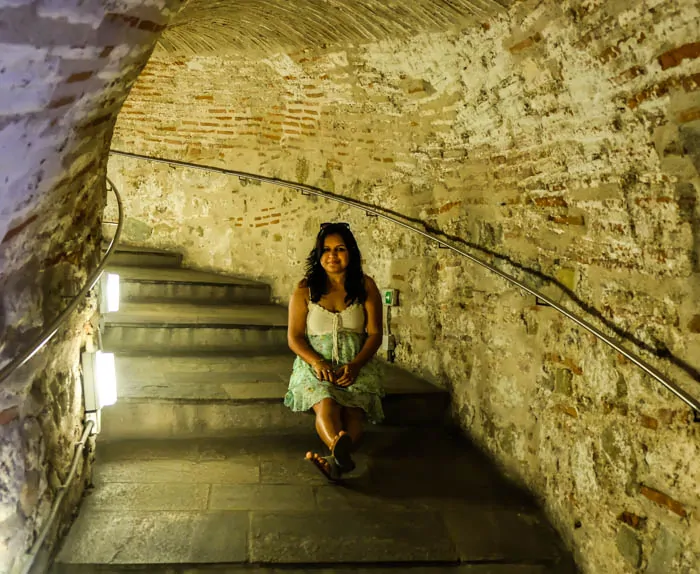 Why Thessaloniki: Is it worth visiting?
There is a fun game I like to play when I tell people about my Greece itinerary. I ask people to guess where I had the best three days in Greece. The conversation goes like this:
Santorini?
No.
Mykonos?
No.
Crete?
No.
Athens?
Yes, but that is not the city I am talking about.
Yeah, I don't remember the name but I am sure it is one of the hundreds of stunning Greek islands.
No.
Ok, I give up, where?
Thessaloniki.
Thessaloniki, why?
Yes, it is an important question, why visit Thessaloniki, a mainland port city in Greece, when Greece is mostly known for its picturesque islands and beaches?
Greece has a lot to offer. Not taking anything away from the turquoise water and some of the most stunning backdrops, mainland Greece and cities like Thessaloniki offer some of the most spectacular ruins, recalling the grandeur of ancient civilizations.
Thessaloniki has been an important city throughout history, given its strategic port advantages. The Romans made it the capital of their Macedonia Prima back in 146 BC. Looks like it always had capital capabilities. Macedonians, and Romans, all wanted Thessaloniki to be the capital. Despite frequent earthquakes, fires, adjacent malarial swamps, and a spotty water supply, Thessaloniki has been resilient and prospered against all odds. Sadly, the great fire of August destroyed nearly half of the city within the medieval walls in 1917.
Fun fact: After 1500, a large number of Sephardic Jewish refugees from Spain and Portugal settled in Thessaloniki. Before the Balkan Wars, there were more than half of the total population, making it the largest Jewish city of that era.
Macedonians, Romans, and Ottomans, all have ruled Thessaloniki at some point in history. The legacy of such cultural shifts is seen throughout the city in its architectural remains, historical churches, and my favorite part, its cuisine. So, for any history enthusiast, or anyone who is interested in Greece, I highly recommend visiting Thessaloniki.
Look, I get it. Thessaloniki is not the first name that comes to your mind when planning a trip to Greece. We only planned to stay for a few days in Thessaloniki since we were invited to a Greek wedding and Thessaloniki was the nearest airport. But now that we have, I highly recommend people to visit Thessaloniki. It is a splendid city.
This post contains some affiliate links and if you buy something using those links, I get a small commission, with no extra cost to you.
What to do in Thessaloniki for 3 days: itinerary
Think of Thessaloniki as the remix of different eras. The classical, Hellenistic, Roman, and Byzantine eras left Greece with an artistic heritage second to none. It is remarkable to find cities like Thessaloniki that can boast of art, architecture, and ruins from so many different styles and time periods. It makes it the best city to have a walk through history. This is as close to time travel as we might get.
Talking about time travel, did you see the crazy scene in Ms. Marvel for time travel back to the partition time? Epic, epic is the word.
Even with this mashup, Thessaloniki has its own distinctive character.
So let's get started.
Day 1 in Thessaloniki: historical world heritage sites
Walk, walk, walk! We have been talking about the different historical events and sites for a while. Now it is time to see them. Start early in the morning.
First things first, Coffee. Grab a coffee and bite at Terkenlis (location on the map below). Frappe is my favorite iced coffee from Greece.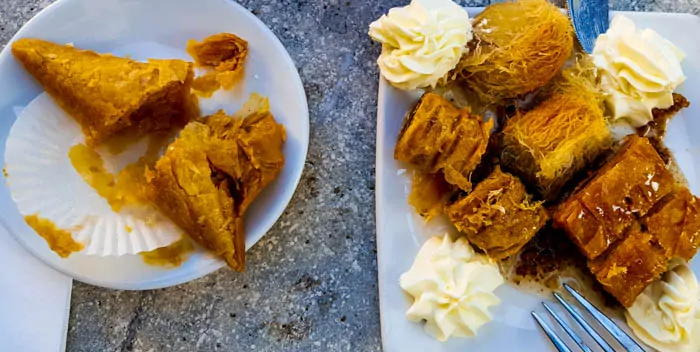 Right in front of this amazing cafe/patisserie is Agia Sofia. Yes, just next to it. I am already nailing this itinerary.
Agia Sofia. This significant Byzantine church is known for its historic mosaics. Agia Sofia. Sounds familiar? I call this church the cousin of Agia Sofia from Istanbul. This church was made in the 8th century and was dedicated to the Holy Wisdom (Sofia). It was converted into a mosque during the Ottoman empire and was later reconsecrated as a church in 1912.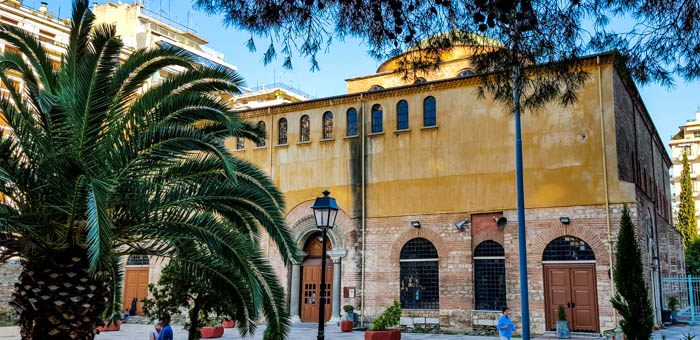 Now let's walk back in time, all the way to the Arch of Galerius. Take a historical dip in Thessaloniki by visiting the ruins dated back in time as far as AD 299. This arch was built by Galerius, the co-emperor of the Roman empire), hence the name, to celebrate his victory over the Persians in AD 298. To add to its glory, the arch is covered with carvings showing some scenes from the battle.
Rotunda lies conveniently just north of the arch of Galerius. This single building has withstood tests of several wars and the religious beliefs that tag along with its winners. While it was originally intended to be a mausoleum for Galerius, it was never used for it. It remained unused for several years after its construction and was later converted into a church. During the Ottoman Empire, it was used as a mosque and a minaret was added for the same. When the Greeks took over the city, it was converted back into a Greek Orthodox church, known as the church of Agios Georgios. A church with a minaret, I am telling you, Thessaloniki is a mashup city.
Agios Dimitrios is the Largest church in Greece. The majority of Greeks are firm believers and practice Orthodox Christianity. Thessaloniki has the richest collection of Byzantine churches in Greece. Agios Dimitrios is the largest church in Greece and had to be entirely rebuilt after the fire of 1917. Some oldest parts prevailed and those 3rd-century portions are in the crypt. No safer place I guess.
Built up an appetite? Great! Because now I am recommending you walk through the Kapani and Modiano food markets. And if you want to accompany a local guide to the best places to taste food in Thessaloniki, join this amazing and very highly rated culinary walking tour!!
Now after the fantastic lunch, you should visit the best museum in Thessaloniki, the Thessaloniki Archaeological museum. This museum focuses on the excavations within the city and other sites in Macedonia arranged chronologically through the ages. It even has a marble statue of Harpokrates dated to the end of the 2nd century AD. I absolutely loved their big section of tombstones and the displays that showed how the bodies were buried with their belongings.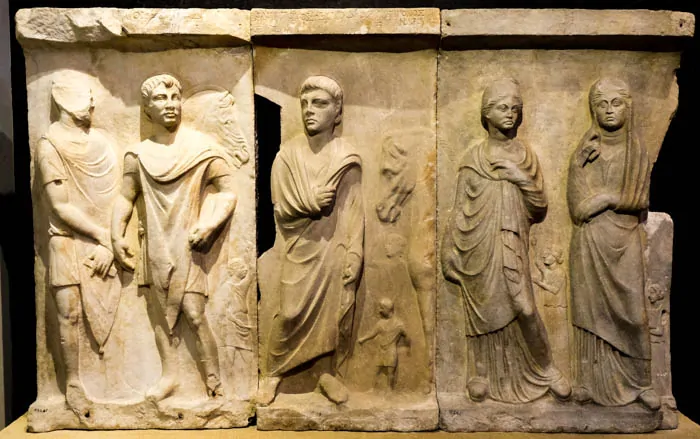 Very intriguing,
and creepy,
But most intriguing.
If you have time for just one museum in Thessaloniki, I will highly recommend it. Another great museum next door is the Museum of Byzantine culture. This museum displays art crafts, and textiles from Early Christian to Byzantine times. The mosaic floor and the textile designs are spectacular.
Now just one more thing before we call it a day and head for dinner. Say Hi to Alexander the Great. You didn't think a city will have such a well-known ruler from ancient times and not have a statue on his behalf. The statue is just at the coast, making it a perfect time to see a spectacular vibrant sunset over the sea. And as we head towards the dinner place, let's make one last stop to say our greetings to..none other than…Aristotle.
Yes, there is a statue dedicated to Aristotle as well. In fact, there is a university in Thessaloniki with his name.
Fun fact: Aristotle actually taught Alexander the great. This blew my mind. I had no idea about this. And this that there is a legend that Aristotle taught Alexander to think like a Greek but to fight like a "barbarian" because the Athenians denied him the direction of the Academy because he was Macedonian. Talk about brittle human egos that lead to massacres, violence, and destruction to an extent that was never seen before.
Ok, with these deep philosophical thoughts, let's head to dinner. Continuing along the coast, you will soon reach the Ladadika and the restaurant that I chose for you, Negro Ponte (location also on the map below). This was my favorite dinner place in Thessaloniki. They have great seafood, vegetarian dishes, greek salad, tzatziki and meat, a lot of meat. Order one or two or three dishes, sourced from local ingredients. Let the Ouzo flow over ice and let the Greek hospitality take over.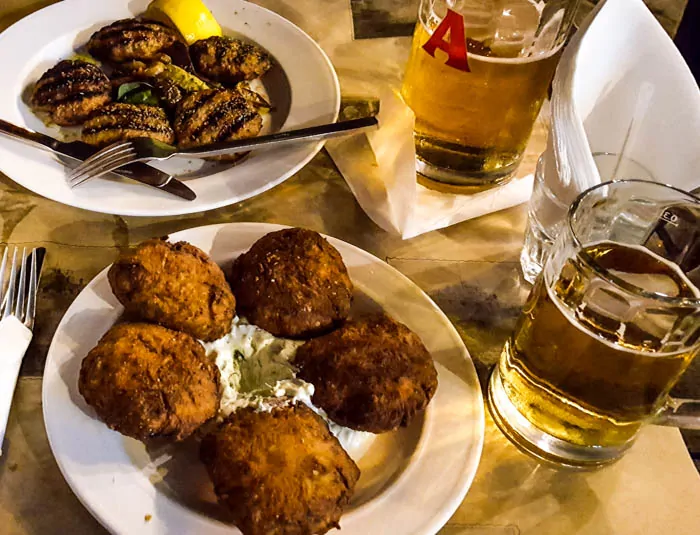 Fun fact: Ouzo name can be only given to the one made in Greece. Ouzo is the local anees flavor strong drink, similar to raki (don't say that to them!)
We cannot talk about Greece and not talk about food. Not only about food, but food culture. I have been around a lot, I think, but I have never ever found this type of culture anywhere in the world. Food is more than food in Greece. It is a cozy meal time with friends and family. But don't you worry there is a lot of it. A meal time can take hours. Everyone is sharing common big bowls, offering the best part to the guests. There are a lot of conversations and stories, music and ouzo. Lot of ouzo and tschipuro! Over ice, always over ice.
Fun fact: Greeks were essentially vegetarian until about the mid-20th century, not by choice though. It wasn't possible to pasture large herds
Bonus fun fact: Did you know that feta is made from variable mixes of goat's and ewe's milk?
I see, I have tried to pack a lot on day 1. It is because I have something really special in store for the next day. Something that will blow away your mind. So, let's hear it.
.. drumrolls ..
Day 2: Day trip to Meteora
First, my personal favorite is a day trip to Meteora.
How can I explain Meteora? Well, it is a place you will not forget any time soon. It is majestic and remarkable.
The UNESCO heritage site, Meteora, is known for its strange and phenomenal rock formations. It means 'suspended in the air' in greek. And oh boy, do they hang up in the air! Just imagine these giant rock pillars shooting up in the sky. It doesn't make sense. It is unlike anything I had seen before. These vertical rock formations are hard to be explained geologically. But they make for an unbelievable view.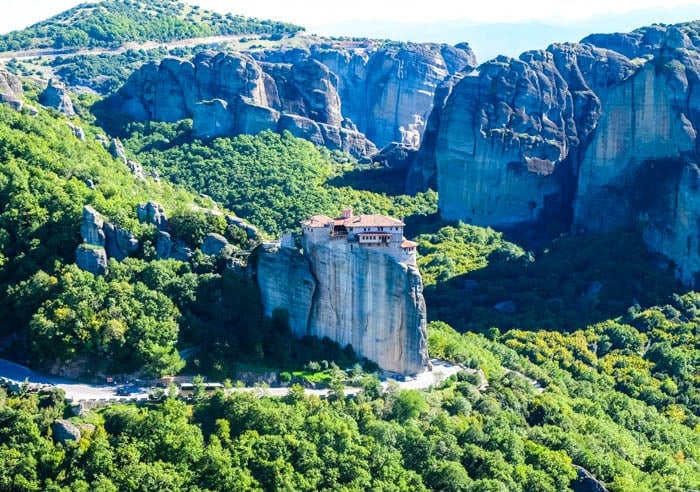 Game of Thrones lovers will know this place as Eyrie the ancestral seat of House Arryn. The place where Tyrion (ahh Tyrion) was thrown in the scary outdoor cell, after being abducted by Catelyn. As a matter of fact, Meteora was indeed the real-life inspiration behind this place. the team wanted to shoot the scenes here but given the restrictions and formalities, they could not. But if they would have, this place would have flooded with Game of thrones tourism. I loved the game of thrones, yes, even with the weird ending but not a fan of what it has done to tourism at the shooting locations. I am looking at you Dubrovnik.
Other than their appearance, Meteora is significant for religious reasons as well as they host holy Byzantine monasteries on top of these rocks/hills. Some of these monasteries are open to the public for a small entrance fee (3 euros I think).
You can plan the trip yourself by train/bus to Kalampaka, the town below Meteora. I could not find any reliable source from Kalampaka to Meteora. We went there with our greek friends by car. If you do not have the option to drive, I would highly recommend taking a guided day trip from Thessaloniki as it would take the hassle away of planning the trip, especially with the scarce public transport. Another reason to take a guided tour since then is you don't have to worry about the opening times of different monasteries.
Day 3: Water baby: Sailing or Thermal baths?
Okay, I get it, What is a trip to Greece without some water activities? That would be a tease, right? For the last day, I am going to suggest not one, but two sea/water-based activities.
The first one is a Sailing cruise in the deep blue waters of the Thermaic Gulf. This highly-rated tour also includes visiting a nice beach to swim and … wait for it … visiting an abandoned shipwreck that you can explore underwater. Sounds cool, right? But it gets better. You also get Greek lunch and wine with the cruise that your captain will prepare from scratch on your sailboat. And all this, with the view of Mount Olympus, the home of Greek gods. Now we are talking!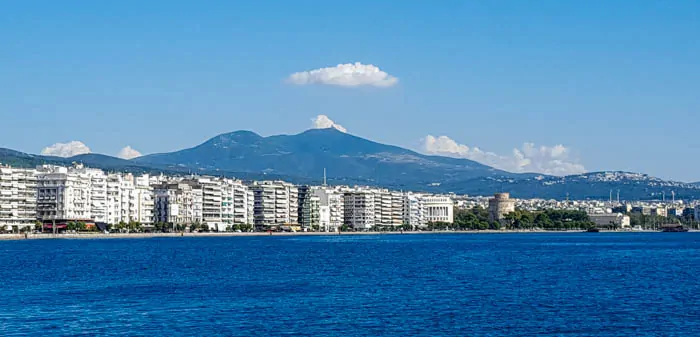 If it is cold or you don't fancy a sailboat, I can recommend going to Pozar thermal baths with healing water. This fabulous guided tour includes visiting some of the biggest waterfalls in the Balkans (even grander than the one in Triglav National park in Slovenia). They also stop by Edessa, the first capital of ancient Macedonia.
That's a wrap! I hope you will find this itinerary interesting. I have combined historical significant sites, natural wonders, relaxing beach/boat time, and of course, food and coffee 🙂
Budget tips
Student ID: Carry your student ID with you if you are a student. Most of the museums are either free or offer a reduced entry fee for students. Regional transport (both bus and trains) is also cheaper for students.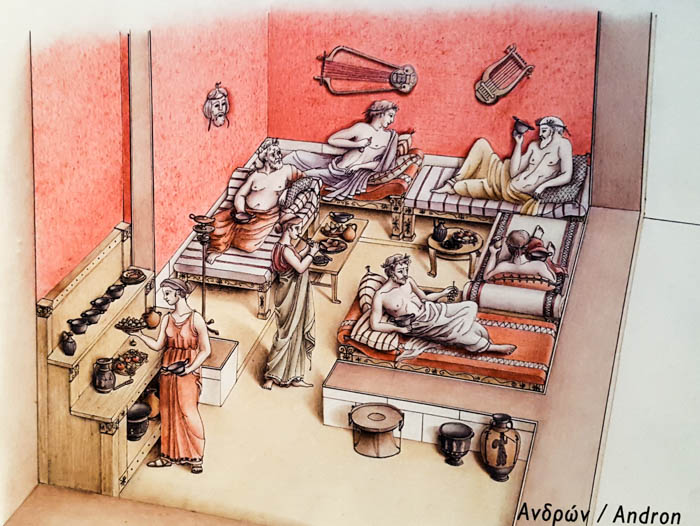 Timings of museums: Take note of the opening hours of the museums. They vary a lot on weekdays and weekends. You can find all these details by a simple google search or on each museum's website.
Bus tickets: If you need to take a bus ride in Thessaloniki, please offer the exact amount. The ticket machines on the buses do not give change back. You can find the bus routes here.
Museum combo ticket: There is a museum combo ticket that you can buy and save some money on each ticket.
Where to stay in Thessaloniki?
Vanoro Hotel : One of the best-rated hotels (9.6 ratings) in Thessaloniki. It has huge and stylish rooms. The location is also excellent. Above all, it offers a fabulous breakfast on site.
Antigon Urban Chic Hotel: And Uber Chic it is. This classy and luxurious hotel will add so much to your greek experience. Balconies are definitely the highlight of this stunning hotel! Most important: it is also just an eight-minute walk from the starting point of the itinerary.
ONOMA hotel: This is certainly one of the most unique hotels. It is PC gaming themed, which is refreshing. Themed hotels could be a hit-or-miss kind of deal but this one looks cute and refreshing. There is of course a room with foosball. And there is a rooftop pool and bar. But the highlight for me would be the telescope on the roof, I mean, how many hotels can boast of offering something as unique as this!
ON residence: This is one of the most modern and new hotels in Thessaloniki, with an outdoor pool. It is along the beautiful promenade and offers stunning views! No doubt this stunner has grand ratings (9.6!)!
Is it worth visiting Thessaloniki?
Absolutely yes! Even a short time, like a weekend in Thessaloniki, will give you a lot of your money's worth. It is a mecca for history nerds with the comforts of a big city. And is still unbothered by the crowds.
How to reach Thessaloniki?
From Athens: You can fly from Athens to Thessaloniki in about an hour. Check out the flights below. You can also take a train. The new trains take about 3 hours and 15 minutes to travel from Athens to Thessaloniki.
From outside Greece: Flying is probably the most convenient way. Book your flights now!
I hope you find this itinerary useful. To get the google map with the best attractions and restaurants in Thessaloniki, subscribe to my newsletter.