Tsagkarada (Greek:

Τσαγκαράδα

)
While everyone was busy catching Pokemon, I felt left out. I never cared about Pokemon, not when I was a teenager, not now. But I had to win this catching mania and what could be cooler than catching Centaurs? (Ha! Pokemon lovers: 0, Me: 1)
A greek friend of mine recommended me to visit Pelion mountain and its small villages for a glimpse of the hidden Greece. I started researching a bit more about these mystery villages and stumbled upon myths behind them. Sold! I knew I had to go there. We went to Volos for the sole purpose of visiting the Pelion mountain. And a few minutes of twisting mountain roads (much more dangerous than the ones from Meteora journey) from Volos, this is me grinning next to the direction sign boards in Tsagkarada in the picture above.
Inside the mythical Forest of Pelion
Being at high altitudes, Tsagkarada is not really populated. Its population was around five hundred in 2011. With just a few locals living there and tourists flooding on greek islands instead, Pelian charm is well-preserved.
After a full breakfast at the beautiful cafe at the bus station, we decided that having a local guide could be helpful to go in the forest and we dialed a phone number comfortably available at a hoarding there. We got ourselves a guide. No advance booking, nothing!
Greek cafes stole my heart. Do you what makes them so special?
Tsagkarada is divided into four small parts and we walked around them through the lush green forest. Walking along the lines of chestnut trees around me, I realized this moment has to be the closest I have been to nature. It smelled like nature. Mixed smells of trees and dampness. It felt like I have walked straight into some magical world where no one has ever been before.
Digging it? Check out my epic Thessaloniki weekend guide here with awesome to dos, restaurant recommendations, one day trips and budget tips!

Walking along these serene paths, it felt like some other place, some other planet. Like my Iceland experience. It was greener of course and not icy 🙂 I had my hopes high for centaurs, unicorns or just any other magical creatures to just pop out and ask why are we trespassing their secret hangout place. Well, that didn't happen! I don't know if I am happy or sad that it did not happen.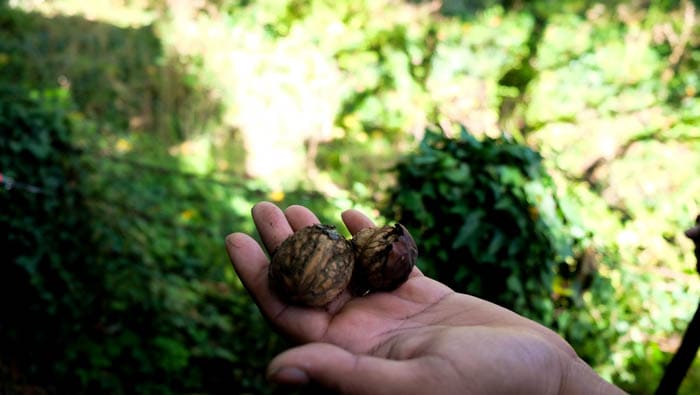 Old houses and buildings in Tsagkarada
After the forest, the old houses and churches are the most well-preserved things in Tsagkarada and other Pelian villages. And boy, do they make a sight?
Our guide told us the history of the Pelian villages and how people come to live at this place, which gets even more secluded during winter due to low temperature.
Curious about how a crazy greek wedding looks like? Check it out here!
Views along the route
Our trail was full of the autumn hues and mysterious twisting paths. I had my eyes open for the spotting centaur now and then. No luck 🙁 But we had no complaints. Apart from the forest and villages, we also had stunning coastal views from the trail.
I loved greek cuisine! Spent most of my time sipping Freddo cappuccinos, gorging on delicious fresh food and enjoying exotic drinks! I loved it all.
Looks like I have another entry for the list of stunning views from my travel.
We completed the walk in about two hours. Although Tsagkarada is completely different from the lively Thessaloniki, people are equally warm. Cafes and restaurants still have the fanciest decor. People definitely have a more chilled out life than in cities.
You don't even need a guide actually. The only reason we wanted a guide was to have a historical plunge (and because we are really scared of greek mountain dogs!). But you can walk along these beautiful paths yourselves. They have signs everywhere since they had a mountain marathon there. There are several hiking courses available for the week that involves around 5-7 hours of walking every day and take you through most of the charming villages in Pelion. I would highly recommend a visit to Pelion mountain and its breathtaking villages. But a responsible visit. And just don't tell me if you spot a centaur, I will be disappointed.
If you are wondering why I am promoting #OffbeatGreece, I explained the Whys and Hows here. This article is a part of the 31 days series #OffbeatGreece I started in October 2016. You can find more articles from Greece here.