Deciding between where to travel next, Switzerland or Italy? What if I tell you that you don't need to choose one or the other. How do you ask? Domodossola is the answer!
Domodossola is a petite Italian town surrounded by the Alps in the Piedmont region in the northwest of Italy. What makes it special is its location: It is an important railway junction connecting the train routes between Switzerland and Italy. It is a hub for trains connecting Milan to Geneva, Bern, Lausanne, Interlaken, Zermatt, and many other Swiss cities. This also means that it is a perfect town if you want to stay in Italy and have daily trips to beautiful lake regions in Italy and gorgeous alpine towns in Switzerland.
Domodossola is a historical town in Val d'Ossola and is the center of seven alpine valleys. To be honest, we did not know about the existence of Domodossola till the night before our Geneva to Milan train ride. We later found out that this small border town is well known in southern Switzerland for being a cheaper shopping town. People from the neighboring Swiss cities visit here on Saturday for utilities tagged at much cheaper prices than their native Switzerland.
When we arrived there Saturday morning, we were pleasantly surprised to see the market square, Piazzo Mercato, oozing with people curiously bustling around. The whole old town was covered with small temporary shops selling everything from bread, fresh produce, clothes to bags, and even kitchen utilities.
More than the market area and its chatter, my attention was drawn to its old and beautiful buildings. Nonas were enjoying their coffee from the balcony while spying on the market activities downstairs. Teatro Galletti, the local theatre, which is an important cultural building in the town, stands proud on the center square itself. It also has a 14th-century Briona Tower in front. Another important building from the same era but in more Renaissance style, Palazzo Silvia is now a museum showing the different finds from the Roman and pre-roman eras, including the fragments of Egyptian mummies.
After a while, we took a break for lunch at the restaurant just in front of the train station. I usually avoid that but the clock was ticking and we had to catch our connection to Milan. Since the place was swarming with locals, we took our chances. The people were nice and the service was very fast. The pizza tasted better than what it looked like but just okay on the Italian scale but the coffee was great, creamy with a dash of bitterness, and was perfect for my I-woke-up-too-early-on-a-Saturday kinda day.
Note: This post may contain some affiliate links. If you purchase something through those links, I get a small commission, at no additional cost to you.
Since Domodossola has such a great location between Italy and Switzerland, it can be a good hub for traveling around if you are staying longer in this area. Some of my favorite locations that can be easily visited from this beautiful border town are listed below. Most of these destinations are just one to two hours away from Domodossola (max is 2.5 hours) and hence perfect for a day trip from this gorgeous Italian town. Here are 10 beautiful locations you can visit from Domodossola, Italy are:
Lake Maggiore was my love at first sight, even though the sight was from a wobbly train carriage navigating its way from Domodossola to Milan. The lake was shimmering even with the faint touch of sun rays. The small islands in the lake caught my attention and I made a mental note to stop here on our way back from Milan to Lausanne. And I am so glad we did.
Lago Maggiore, nestling among the southern Alpine foothill, is broad and majestic. I have a full post dedicated to my love for lago maggiore and its islands. If you plan to spend your day there, I highly recommend visiting the three Borromean Islands. While they might seem a bit touristy in summer, just the gardens alone at the Isola Bella island are worth every penny. To add to the glory, the views of other coastal towns from the islands are divine. Small green towns and villages with the backdrop of the alps, and water, deep blue water all around, is a sight to behold.
While the lake itself is stunning, I highly recommend visiting the islands. We took a hop-on and hop-off ticket to the islands and I think it was the best way to explore the lake. One ticket can give you access to all the islands and you can choose how much time you want to spend on each of them.
Plan your trip: Domodossola to Lake Maggiore
Closest train station: Stresa, Italy. There are frequent boats from the ferry terminal to the islands. You can also buy a hop-on and hop-off ticket for visiting all the islands, which I highly recommend.
Time by car: 35-40 minutes
Time by train: 20 minutes by EC train (15 euros one side) or 27 minutes by regional train (4.15 euros one side, more frequent and way cheaper than the EC option). There is a short walk of about 10-12 minutes from the train station to the ferry terminal.
Tickets and updated prices: Train tickets, Ferry tickets
The fashion and financial capital of Italy is not far from Domodossola. With its designer boutiques, cool aperitif bars and chic restaurants, Milan is a cultural delight. When in Milan, you cannot miss the extravagant gothic cathedral, the Duomo. Visitors travel from faraway lands to witness the artistic masterpiece of The Last Supper but I can highly recommend visiting Vinci's scientific experimental pieces at the gallery near the Duomo. I have a complete guide for spending the best two days in Milan which you can use as a guide for what to do when in Milan.
Plan your trip: Domodossola to Milan
Time by car: 1 hour and 45 minutes
Time by train: 1 hour and 20 minutes by EC train or 1 hour and 40-45 minutes by regional train.
Tickets and updated prices: Get your train tickets here!
3. Zermatt, Switzerland
Zermatt is the cousin we all have and are envious of: rich, stylish, and luxurious. It is known for its skiing resorts that are open all year. But the tourist magnet for this region is the iconic Matterhorn (Yes! The Toblerone mountain). Don't get too charmed by this famous peak as more than 500 climbers have died trying to reach the top! You can enjoy amazing views of this Swiss beauty in a less risky way by taking a historical cogwheel train to the Gornergrat viewing platform. This Alpine railway is Europe's highest open-air rack railway and provides you with unparalleled views of the photogenic Matterhorn and the Gorner glacier. There are many impressive walking/hiking trails from Gornergrat. Fan of cable cars instead? You can enjoy a 360-degree panoramic ride in the crystal cable car from Zermatt to Klein Matterhorn. If you want to stay overnight, you can consider 3100 Kulmhotel Gornergrat, which is the highest-altitude hotel in Switzerland.
Plan your trip: Domodossola to Zermatt
Time by car: About 1 hour and 45 minutes
Time by train: About 2 hours
Tickets: SBB (Swiss train tickets), Cogwheel train to Gornergrat. Buy tickets in advance for getting the best prices as SBB provides early-bird discount kinds of deals (up to half price!) on most of the routes. They also offer discounted fares on some trains at specific times to control overcrowding on other trains. So, check your schedule and plan ahead for the best ticket prices.
4. Interlaken, Switzerland
If I ask you to close your eyes and imagine the swiss landscape, and the first picture that pops into your head is of green sloped alpine meadows, cows grazing through them, ringing their bells in sweet sunshine. There is a lake at a comfortable distance competing with the grandeur of the peak next to it. If this is your version of the swiss landscape, congratulations, you are in the Bernese Oberland. At the heart of this region lies Interlaken, which is one of the biggest touristy sections of Switzerland these days. And rightly so, it offers many diverse landscapes and opportunities. Some of the most incredible country roads are often interrupted by majestic waterfalls. My favorite thing to do around Interlaken is to take a train to Grindelwald and explore First and Bachalpsee. I have documented my experience in this article about First and Bachalpsee, including some budget tips!
In spite of being highly commercialized over the years, this is my favorite part of Switzerland. And if you want to see most of what Switzerland has to offer in a limited time, Interlaken and the surrounding region is your best bet. If I have to choose just one day trip from Domodossola, I would probably pick Interlaken!
Plan your trip: Domodossola to Interlaken West
Time by car: 2 hours and 40 minutes to 3 hours
Time by train: 1 hour and 35-50 minutes (depends on the connection and transfers)
Tickets: SBB (Swiss train tickets)
5. Spiez and Niesenbahn, Switzerland
Spiez is a beautiful town at the horseshoe-shaped bay of Thunersee (Lake Thun) in the Bernese Oberland. For history enthusiasts, there is a medieval castle Schloss Spiez, right on the bank of the lake with some beautiful vineyards in its neighborhood. For the lovers of the adrenaline rush, various water sports opportunities await. You can also treat yourself to the marvelous boat tours in lake Thun. Undoubtedly, the highlight of this region is the funicular that runs to the top of Niesen and gives unparalleled views of the three iconic peaks in this region: the Eiger, Mönch, and Jungfrau.
Plan your trip: Domodossola to Spiez and Niesenbahn
Time by car: 2 hours and 40 minutes to 3 hours
Time by train: 1 hour by EC and 1 hour and 30-40 minutes by regional trains (depends on the connection and transfers)
Tickets: SBB (Swiss train tickets), The Niesenbahn funicular is open from mid-May to mid-November. Please check the exact dates on the website above before planning the trip.
6. Bern, Switzerland
Encircled by the mighty Bernese Alps, the bear-loving swiss capital feels like a walk back in time. The UNESCO-protected old town has plenty of fountains that have been standing strong since medieval times (regularly maintained and refurbished obviously). While these fountains are already admired by the visitors, I would like to bring some attention to the magnificent bridges in this beautiful town. Bern is home to many beautiful bridges from different eras, from the small stone bridge from ancient times to the modern train bridges over the river Aare, which makes a spectacular u-turn in the old town of the city. Another spectacle in the old town is the 16th-century astronomical clock, just a few steps from the bear park where you can spot some bears lazing around. Yes, Bern loved bears, they even have it on their coat of arms.
Plan your trip: Domodossola to Bern
Time by car: About 3 hours
Time by train: 1 hour 40 minutes by EC and 2 hours to 2 hours 30 minutes by regional trains (depends on the connection and transfers)
Tickets: SBB (Swiss train tickets)
7. Locarno, Switzerland
The train route from Domodossola to Locarno is a very special narrow-gauge track that runs over beautiful bridges, idyllic gorges, and up inclines. And hence you should not miss the panoramic train service connecting these two cities, by Centovalli Vigezzina. Locarno, like most of the cities/towns in Ticino, is a balanced mix of Mediterranean delights and swiss economies. After reaching the Locarno, the stunning town on the northwestern shore of Lago Maggiore, you will find yourself amusing over the many piazzas in the city. You can't miss the Mediterranean flavors in this Italian-speaking city. Be it the countless piazzas, pizzerias, or gelato stores.
If you are there in early August, you might be able to attend the international film festival, the Festival del Film Locarno. Locarno is appreciated for having the mildest climate in Ticino, and you should not be surprised to know how popular this city is for Swiss and German retirees who want to either settle down here or have a second/retirement home here.
Plan your trip: Domodossola to Locarno
Time by car: 1 hour by the shorter route, 1 hour 20-30 minutes by the route next to the Lake Maggiore
Time by train: 2 hours
Tickets: Centovalli Vigezzina, There are some special panoramic trains for the same route.
8. Montreux, Switzerland
Jeweled with the spectacular waterfront on Lake Geneva, Montreux is an ideal day trip from Domodossola. It is also the host of the annual summer jazz festival where you can enjoy a number of free jazz performances There seems to be a deeper music connection in Montreux as the Deep Purple song Smoke on the water was also penned down here after a building was flame close to the waterfront. The walk around the waterfront is highly recommended every season, even in winter as one of the largest Christmas markets in Switzerland is hosted here.
For a magnificent view of Lake Geneva and Montreux town, take the mountain cable car to Caux and Rochers de Naye. I will also recommend a visit to the Chillon castle when in Montreux. If you have more time, you should definitely consider exploring the swiss riviera with this stunning boat cruise from Montreux, taking you through Geneva, Chillon castle, and some stunning landscapes of the swiss and french alps.
Plan your trip: Domodossola to Montreux
Time by car: About 2 hours 30 minutes
Time by train: 1 hour 40 minutes by EC and 2 hours to 2 hours 30 minutes by regional trains (depends on the connection and transfers)
Tickets: SBB (Swiss train tickets)
Valais comes from the Latin word for the valley and rightly so it contains about 47 peaks. And in these amazing valleys, swiss grow their wines. Sounds like a classical Switzerland trip? Valais is Switzerland's prime wine-producing canton. So, if you have time for a day trip, sip and sample some of the best Swiss wines. My recommendations for white wine will be Fendant and Johannisberg. They pair well with fondue and raclette as well. One of the attractions that I enjoyed in this area is the Saint-Léonard underground lake, the largest underground lake in Europe. The boat is also accessible by boat and frequent 30-minute boat tours are offered. Check the link below for directions, timings, and tickets.
Plan your trip: Domodossola to Saint-Léonard lake
Time by car: About 1 hour 50 minutes
Time by train: 1 hour 40 minutes by EC and 2 hours to 2 hours 30 minutes by regional trains (depends on the connection and transfers)
Tickets: SBB (Swiss train tickets), Saint-Léonard underground lake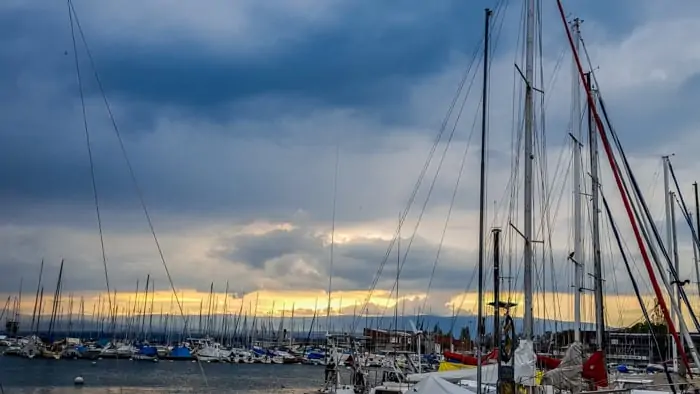 I might be biased towards this destination as Lausanne was my home for almost two years. Being a student city, Lausanne is young, chic, and multicultural. This sloped city offers a scenic panorama of the Alps and Lac Leman. The promenade near the lake, Quai d'Ouchy is often bustling with families enjoying the scenic walk and relax in one of its many beautiful parks like the park surrounding the Thai Pavilion, Parc Olympique and St. Sulpice. Why be content with just a walk around the promenade when you can actually take a scenic boat ride to Evian in France. Being home to the headquarters of the Olympic committee, Lausanne also has Musee Olympique that offers a lively program, often with some special exhibitions. One of the biggest attractions here is Cathedrale de Notre-Dame, the beautiful early-Gothic building in Switzerland. While the tainted windows make for an enchanting interior, the view of the city from the outside of the cathedral is breathtaking as well.
Plan your trip: Domodossola to Lausanne
Time by car: 2 hours 40 minutes to 3 hours
Time by train: 2 hours by EC and 2 hours 20- 45 minutes by regional trains (depends on the connection and transfers)
Tickets: SBB (Swiss train tickets)
Saving money on tickets:
Travel can be expensive, especially in and around Switzerland. You should know some tips and hacks to save some money on the tickets. You will need every penny you save for the fare of the spectacular but expensive cable cars, funiculars, and boat rides. Here are some of my suggestions:
1. Regional trains: As you might have noticed in some of the tips above, it is cheaper to travel by regional trains compared to the long-distance and faster EC/IC/ICEs trains. For example, the price from Domodossola to Stresa is about 4.15 euros one way when using the regional trains and the journey takes about 27 minutes. For the same distance, you might end up paying about 15 euros one way if traveling by the faster trains which take about 20 minutes. If you are traveling with family/friends/groups, these savings add up to significant amounts. For the example above, the difference in traveling time is not significant but for longer distances, it can be. So, you have a tradeoff between time and price. Always make an informed decision by checking the different options beforehand.
2. Advance tickets: Most of the transport companies in Europe (especially for train services) offer cheaper tickets if you buy tickets in advance. On the SBB website (Swiss transport), you can find tickets for even half the price if you book in advance. I have observed similar offers on German and Italian online ticket booking systems. I would definitely recommend checking the travel options at least 7-10 days before your day trip.
3. Cheaper train timings: Not all trains for the same route are priced equally. To avoid overcrowding some specific trains, there are some cheaper train options every day to attract travelers and hence distributing the crowds. So, always check the prices beforehand and plan your travel accordingly.
3. Period tickets: It always helps to check the return journey whenever booking the tickets for day trips since it is very common to have a better price for day tickets. Check the details of your tickets before buying it, since sometimes it might even include the regional/local transport inside your destination city. For example, when I buy regional tickets in Germany, I always check if I can get the '+city' option. Having this option means I need not worry about my bus/tram transport from the train station to the point of attraction in the destination city.
4. Swiss train passes: If you are planning to do multiple day trips across Switzerland in a short time, either from Domodossola or any Swiss city, I will highly recommend getting one of the Swiss passes. Using these passes you can use most of the transport inside the country within the validity period of your pass. The pass also offers discounts on many of the museums/gondola/cable cars and other tourist attractions etc. There are different offers like 3 days, 4 days, and other options till 15 days. They even have a family swiss pass option, if you are traveling with kids. To know which pass to buy, check more details on the SBB website itself.
Being an Italian city so close to Switzerland definitely has its advantages. Not only can you witness the two inherently different cultures melting together in this Swiss-Italian border town, but it also makes a perfect spot for convenient day trips to a varying range of attractions in both Italy and Switzerland.
What do you think about this cute alpine town? Do you think it is worth making a pitstop? Or as a hub for planning day trips across north Italy and Switzerland? Which day trip/trips will you take from Domodossola? Let me know in the comments below. You can also get access to the map of these destinations by subscribing below: