Why Grindelwald?
My introduction to Switzerland was cheesy Bollywood movies where the dashing hero romances the satin saree clad heroine in the backdrop of snow-clad mountains. As Switzerland became the uncontested favorite cinematic location for Bollywood blockbusters while I was growing up, I kept asking myself: why Switzerland? Why has Switzerland become the epitome of beauty and romance in Indian cinema? A few years down the line, after living in Switzerland for a while, I found the answer on my day trip to Grindelwald, First, and Bachalpsee. Because it is picture-perfect. You point the camera in any direction and it is shot-ready. Bollywood's love for Switzerland is far from over and Indians contribute a fair share of their travel funds to the Swiss economy. While there are classical Bollywood-touched tourist spots in Switzerland where buses filled with Indian tourists, make a compulsory stop, Grindelwald is different. Although over the last few years, Grindelwald has become quite popular, there is so much to do around that you will find lots of opportunities to do something really fun and unique.
Not only Bollywood, but Hollywood also find Switzerland pretty cinematic. Did you know that the mountain scenery of the planet Alderaan, home planet of Princess Leia in Star Wars III was inspired by Grindelwald?
How to reach Grindelwald?
Reaching Interlaken
The largest city near Grindelwald is Interlaken. If you are already in Interlaken and planning the trip further to Grindelwald, skip this section and go ahead. But if you are somewhere else in Switzerland and planning the trip to Grindelwald via Interlaken, you are in for a big treat!
Some links on this page are affiliate links. This means if you buy any product using those links, I get a small commission, at no additional cost to you.
Since Switzerland is a small country, it is very convenient to travel between cities. We planned our day trip to Interlaken and Bachalpsee from Lausanne, which means we passed by beautiful Thunersee (Lake Thun). If you are traveling from Zurich, you can even book a full-day tour to Interlaken and Grindelwald. Whether you are traveling from Zurich, Bern, Basel, Lausanne or Geneva, you will follow at least some part of the same stunning route. On one side, the evenly grazed fields entertain the richly belled swiss cows. On the other side, the docked boats waving in lake Thun introduce you to the luxurious lifestyles of the locals in this part of the country.
This train journey to Interlaken itself felt worth every penny we paid for the tickets. (Don't worry budget travelers, we got you covered. Check the suggestions at the end of the post). We were still drooling over the landscapes when it was time to change our train at Interlaken Ost for the journey onwards to Grindelwald. 
From Interlaken to Grindelwald
Regional train from Interlaken Ost takes about 30-35 minutes to reach Grindelwald. We did not think it was possible, but the next section of the train ride was even more scenic. Five minutes on the winding train tracks and we were already rubbernecking for the alpine peaks, creeks, waterfalls, and the cozy timber houses around. It is my favorite route in Switzerland; one of those times (like my Ice cave tour in Iceland) when I did not want the journey to end. If I was not so keen on checking out Grindelwald and Bachalpsee, I would have even considered just going to and fro between Interlaken Ost and Grindelwald.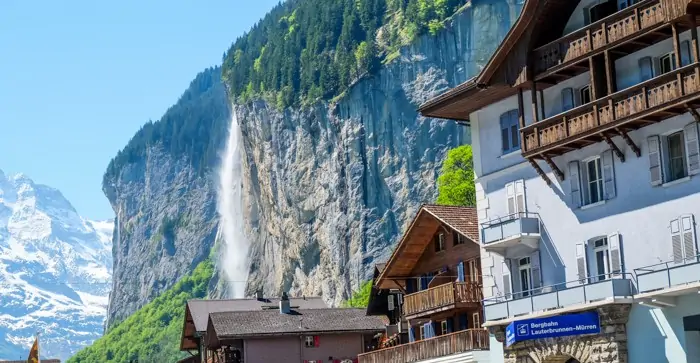 Lauterbrunnen to Grindelwald
Since we were completely taken aback by the stunning route, we missed our stop. We had to change trains at Zweilütschinen but we went ahead and reached Lauterbrunnen. We saw the iconic waterfalls from the Lauterbrunnen in its full glory. As we learned of our 'mishap', we took the next train to Zweilütschinen and then to Grindelwald. It took us about 20-30 minutes detour but it was worth it.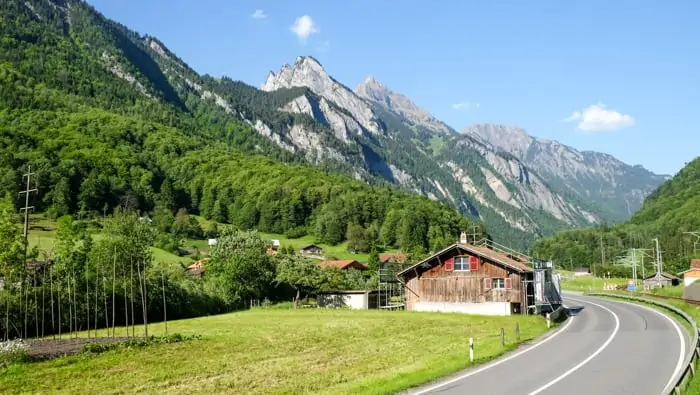 Grindelwald village
The journey prepared us for the destination and set our hopes quite high. The moment we got down at Grindelwald train station, we were charmed by the array of traditional timber houses, scattered in the green valleys extending all the way up to the rocky peaks in the backdrop.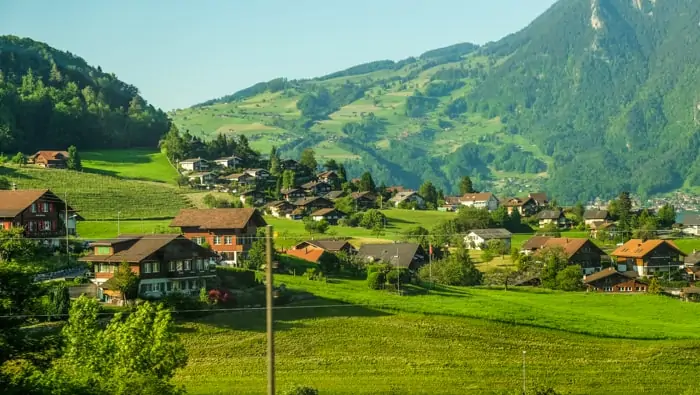 After getting down at Grindelwald train station, we took advice from the information center directly in front of the train station. Since our tickets were only valid for the train at specific timings, we did not have enough time for the hike all the way up to First and so we decided that we should take the Gondola ride up.
It takes about ten minutes to walk to reach the Gondola station. We decided to stop by the local supermarket on the way and grab something for the picnic later.
Gondola ride to First
While the tickets for the return journey with the Gondola were not cheap, we predicted (from our past 2 hours) that it will all be worth it in the end. Without thinking much about it, we enjoyed the 30-minute ride with remarkable views over the Grindelwald village and the alps. Other than these beautiful cows, we had shimmering waterfalls for the company. We also saw some people channeling their adrenaline rush racing down with quad-bikes. After reaching First, we took deep breaths admiring the serene surroundings. Everything felt pure and untouched: the snow-clad mountains, waterfalls, the freshness in the air.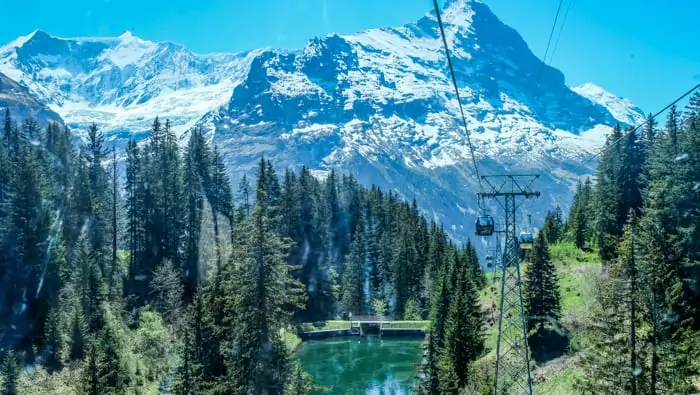 Bachalpsee: The frozen Alpine lake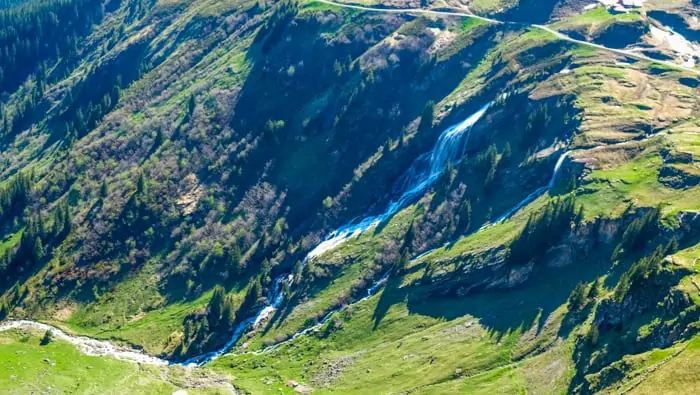 We followed the signs and walked for about 30-40 minutes (including the photo breaks) to reach the Bachalpsee. A small section of the trail was icy even in June. We also saw the melting glacial ice flowing through the spectacular waterfall.
Looks like my favorite Triglav national park (Slovenia) has some competition!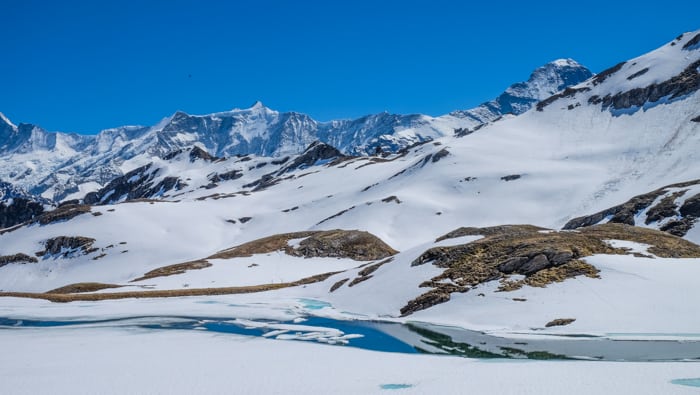 While I was expecting the lake not to be frozen at this time of the year (June), it was still frozen leaving just a few small water bodies here and there. It still made a spectacular sight.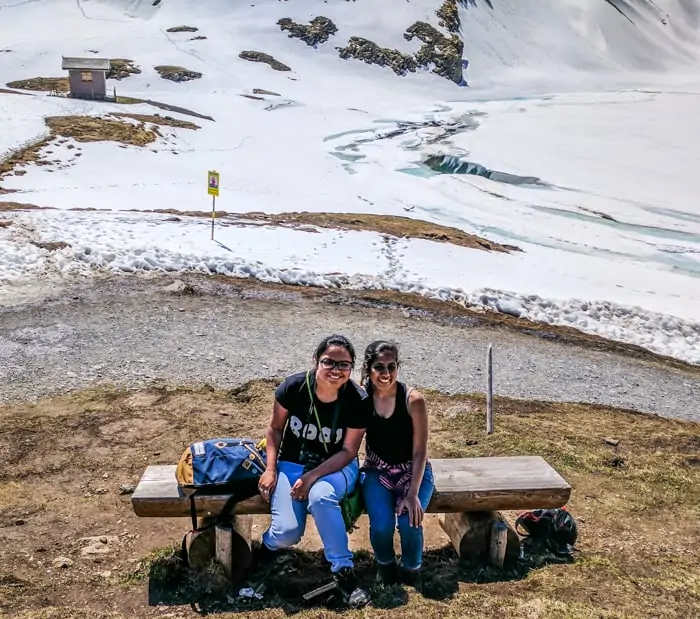 We rested here for a while and took out our picnic snacks. Well-fed (both body and soul), we started tracing the route back to the Gondola ride station
Tissot Cliff Walk
Tissot First Cliff walk provides a 360-degree panoramic view. The metallic bridge-like structure can sure take your breath away.  It is open for the public and you can access it for free.
Views over the proud alpine peaks were occasionally interrupted by paragliders since Grindelwald and the neighboring areas are well known to the adventure junkies. Many activities like bird-view flight, paragliding, quad biking, etc are offered in the neighboring areas. There is also a restaurant near the gondola station which provided drinks and snacks.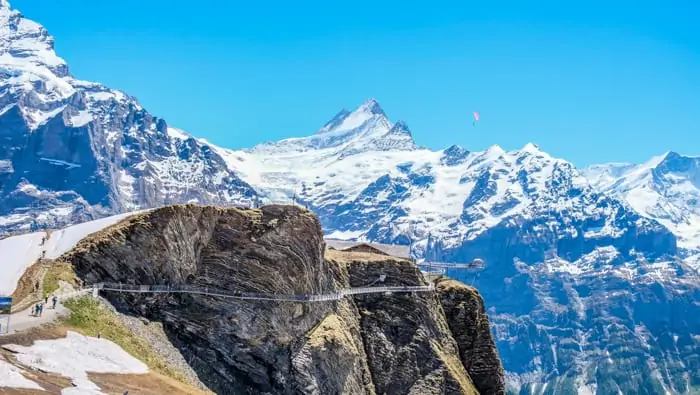 We should have been sad towards the end of our trip but we were far from it. Why? We got to experience the magical train ride again 🙂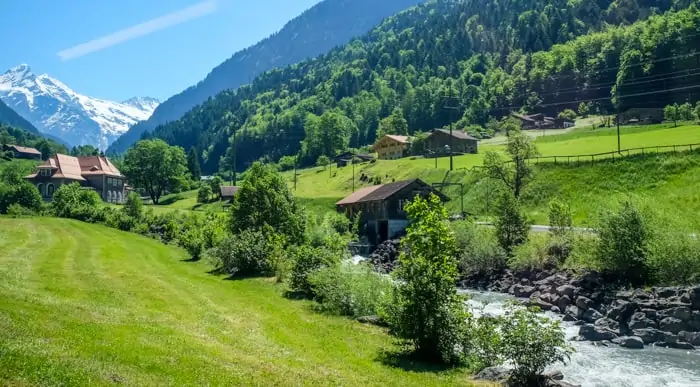 And then we headed back home, Lausanne.
Overall experience
Describing our experience as a beauty coma won't be an exaggeration. It is one of those countries where the journey itself is the biggest treat. Mountains, lakes, waterfalls, valleys, small villages! You don't want to blink, fearing what you might miss.
Itinerary at a glance
1. Reach Interlaken Ost from your respective destination using SBB tickets and timetables.
2. Take the Regional train to Grindelwald (with possible changes/splitting of the train) and devour all the amazing creeks and waterfalls on the way, especially if you are traveling in spring or summer.
3. Wander around Grindelwald and get amazed by the traditional timber houses in the valley.
4. Take a Gondola ride to First from the Gondola station that is about ten minutes away from the train station (and there are signs pointing to it all the way from the train station to the Gondola station). Make sure to note the schedule for the Gondola return. 
5. Seep in the amazing views on the ride, including the waterfalls, cowbell rings, valley houses and stunning peak around.
6. Walk for about 30 minutes to the Bachalpsee (following the signs). Depending upon the season it could either be a clear water lake or a frozen delight, or something in between! Magical, in all forms.
7. Take a short break or a picnic near the lake while recovering from the beauty coma.
8. Head back to the gondola ride and enjoy the Tissot cliff walk for an amazing experience and even closer views of the mountains!
9. Take the Gondola back and then train back to Interlaken Ost.
Time taken:
Using regional trains, it takes about 35 minutes from Interlaken Ost to Grindelwald. A 10-minute brisk walk from Grindelwald train station to Grindelwald Firstbahn station. Finally, a 25-30 minute Gondola ride will take you from the Grindelwald Firstbahn to First.
Cost
:
Interlaken Ost to Grindewald return ticket: 11.20 CHF (about 10 euros), and 32 CHF (about 30 euros) return ticket for the FirstBahn (at the time of writing this article!)
Tips and suggestions
1. Check the train schedules ahead on the SBB website/app. Especially because you can find cheaper tickets when booking online well ahead of time (around a week).
2. Make sure to note if it makes more sense to buy the daily ticket (also available at a lower price when bought online a few days prior to the trip) or just the return ticket for your route. Also, please check if you need to print the ticket, or can you show it directly on your mobile (save trees campaign!)
3. There is sometimes a train change/break between Interlaken Ost and Grindelwald. Note this beforehand or keep a tab on the SBB app.
4. Carry something to eat/picnic on the top. Bring a bottle of water as well.
5. Some sections of the walking path between Bachalpsee and Gondola station can be icy in winter. Please bring good shoes if you are planning this trip in winter.
6. Since the weather will certainly be colder up on the top, please bring layered clothing. It can change quickly from sunshine to rain or thunderstorm.
7. If you have more days to spend in this area, there are many hiking paths with different lengths and capabilities. Otherwise, you can also spend your time exploring Interlaken/Lucerne/Thun/Jungfrau, etc. There is a lot to see in this region of Switzerland.
8. You can also plan a day trip to Lausanne (and here are some beautiful and very convincing reasons to visit Lausanne).
What do you think about our day trip? What would you have done differently? Is Grindelwald in your Swiss itinerary now?